Please do not send us your cards. We don't collect them. They are wasted.
We confirm 100% of our QSOs via Logbook of the World, soon after each contest.
If you believe we had a QSO but you can't get a match on LoTW, please email the QSO details to Gary ZL2iFB (Gary@G4iFB.com) to check our log for a busted call ... or better still, contact us again in the next contest.
We are very QRV: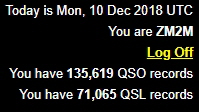 ZM4T - the East Coast Contest Group
Hawkes Bay, North Island, New Zealand CQ zone 32 ITU zone 60 Locator RF80LF